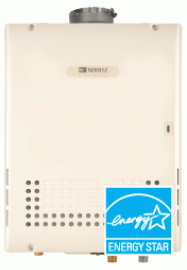 Environmentally-Friendly Technology in Water Heating
Tankless water heaters represent the latest, most environmentally-friendly technology in water heating that works far better than its bulkier predecessors.
Their high efficiency may enable you to take advantage of various Energy Star tax credits and rebates from your gas provider.
When we install a tankless water heater our plumbers take into account gas supply, venting, and household demand for hot water, and we customize a solution for each need and budget.